empowering customers
We are so confident in our results that we post our customer surveys live online, without deletes or edits. View the Survey Results
Social Imprints Customer Service Promise
A single point of contact for all your promotional product needs. Working with a single person, at a single location, means you'll save time and money.
Get expert help determining your needs. We aren't robot "order takers." We listen to your needs, suggest options you might not be aware of, and recommend strategies to fine-tune your promotional product choices for a unique and memorable event, giveaway, or employee incentive program.
Our transparent feedback system ensures you receive industry-leading quality and service. When your order is
complete, our COO, Kevin McCracken, will call to make sure we've performed to your total satisfaction. (If not, Kevin will take immediate steps to make it right.) We're so confident in our results that we post every customer survey without deletes or edits. (Follow this link to read our customer feedback.)
Have errors corrected right away. On the rare occasions when something goes wrong, or an order doesn't arrive on time, we take immediate steps to make it right.
Promote your organization's commitment to social responsibility.
Demonstrate your organization's commitment to social responsibility! You can request that your printed garments include our custom hangtags, which detail our social mission of providing higher-paying professional jobs and comprehensive support services to ex-offenders and recovering drug addicts.
We can also create co-branded hangtags using your company's logo. Or you can ship us your hangtags and we'll affix them to your ordered garments.
For more information, call or email Daniel Phifer 415-956-0269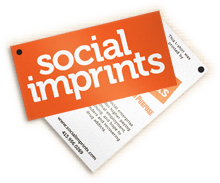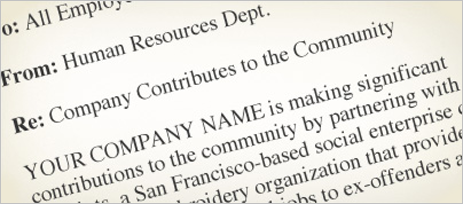 We'll help you create a "socially aware" press release We love discuss how we can support our customers' marketing and PR efforts. Call Jeff Sheinbein at 415-956-0269 to talk about the many options for publicizing the ways your partnership with Social Imprints positively impacts your community.