Social imprints' Solutions
for crunchies
Social Imprints is proud to be the official printer for the 7th Annual Crunchies Award Ceremony on February 10, 2014 at Davies Symphony Hall in San Francisco. (The Crunchies are the tech industry's Academy Awards.)
Event organizers are pleasantly surprised when they hear that Social Imprints has deep experience designing and executing merchandising plans for events like theirs. The folks at the Crunchies approached us with the following challenges:
Challenge 1:
Tech Crunch, the host/organizer of the Crunchies, asked Social Imprints to create its prized Crunchies Gorilla – the award given to the annual winners – based off of just a photograph.
Social Imprints' solution 1:
Social Imprints created the mold for the famous Crunchies Gorilla Awards.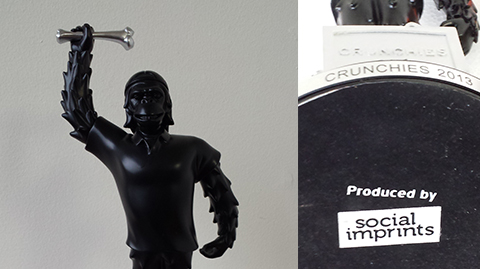 Challenge 2:
"Create a fun, interactive atmosphere for its pre-registration area, as well as the post-event party."
Social Imprints' solution 2:
Social Imprints created print-shop-inspired "pop ups" at the registration area entrance, and at the post-event party. The "pop ups" feature on-the-spot printing of official Crunchies t-shirts and posters designed by Social Imprints, using our mini presses and dryer.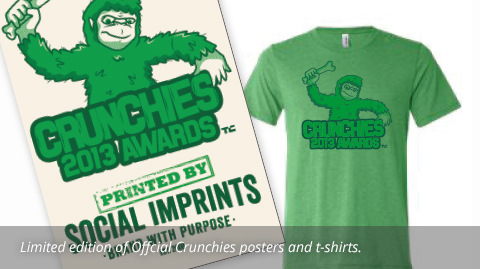 Challenge 3:
The organizers asked us to send each attendee "a memorable thank you gift that attendees would remember far after the event"
Matt Giarratano
Head of Events Partnership at Tech Crunch.
Social Imprints' solution 3:
Social Imprints will prepare key chains resembling miniature Crunchies Awards, with the Tech Crunch logo on the front.